The Best of Dharamshala Himachal Pradesh: Places to Visit in Dharamshala – Things to do in Dharamshala. Best Places to Visit in Dharamshala, Himachal Pradesh
Dharamshala
Body and spiritual rejuvenation doesn't just happen by sleeping or watching favorite movies. Sometimes one must travel to see the world and experience the best of nature's provisions. Mountain climbing, animal zoos, camps, biking, and other activities help keep our bodies healthy and active. It's fun and memorable, especially when done with family and friends.
India comprises of various states, each providing unique features, places, cultures, foods, and nature. Local and international tourist flock to see the beauty in different states. Himachal Pradesh gets the privilege of having a serene and amazing Dharamshala. It's a land of many opportunities, as there are thousands of to-do activities and places to visit.
Dharamshala Himachal Pradesh
Dharamshala is described as the winter capital of the Himachal Pradesh state of India. It's huge and assigned as the administrative center of the Kangra district. The city has digitally developed and ranks among smart city projects implemented by PM Narendra Modi (smart city mission).
The capital (the second capital of Himachal Pradesh) has two sections:
Lower Dharamshala
Upper Dharamshala
Lower Dharamshala
The lower part is marked with commercial and administrative centers. One can find markets, courts, government offices, and important offices here.
Upper Dharamshala
The upper Dharamshala is a suburb city with the Tibetan Government (mini-Tibet India).Visitors can view different prayer flags, monasteries, and monks in the area. There are various shops, restaurants, Tibetan handicrafts, and more attractions.
Tourists interested in Dharamshala can enjoy visiting multiple locations within the city. There are amazing things to do and delicious foods to try. Here we check on places to visit and what to do in Dharamshala.
Places to Visit in Dharamshala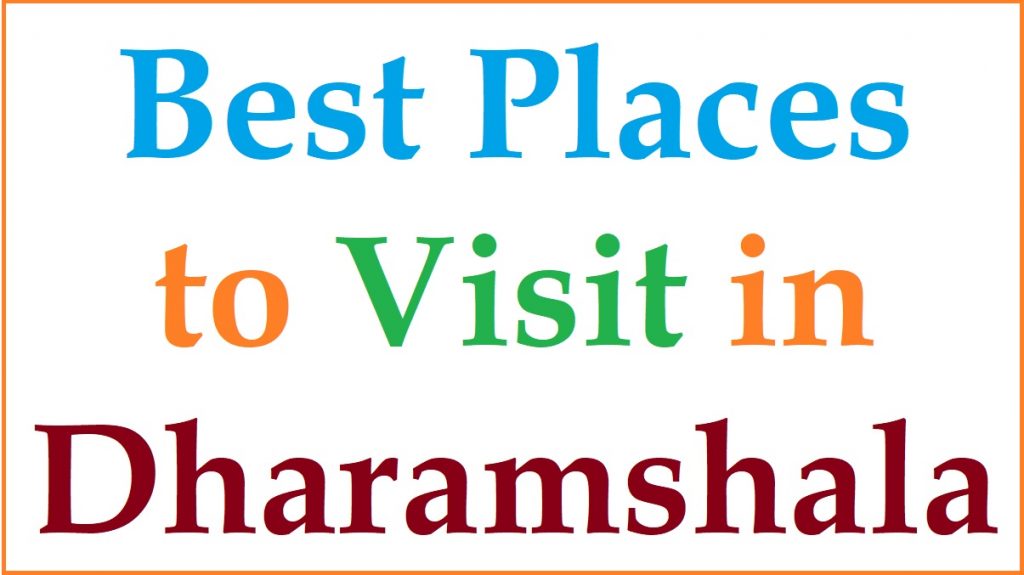 Namgyal Monastery
Namgyal Monastery is a religious attraction hosting the deity Dalai Lama. It's a holy area with different religious facilities defined by unique crafts—Namgyal Monastery is a special college that helps with ritualistic traditions in Buddhism. Here monks practice and promote different Tibetan cultures in Buddhism.There are other branches in Delhi, Bodhgaya, Shimla, and Ithaca. Tourists seeking religious nourishment can visit Namgyal Monastery Dharamshala for a great experience.
Bangotu
Bangotu is a village on a hill that is serene and away from city life. The village is 7.6km from Kotwali Bazar, though close while using road transport. Visitors can enjoy beautiful mountains, dense forests, and snow-cappedmountain peaks (Dhauladhar Mountains). One has tasty meals in local restaurants (tapris). Walk around to see beautiful local houses built with clay, animals (goats and cows) grazing around, and incredible mountainous sites.The winter season is incredible; the village is covered with snow. This brings about different snow activities, which are fun to participate in.
Dharamshala Cricket Stadium
Cricket is the heart of many Indian citizens. The Himalayan Cricket Stadium helps propel the spirit by providing a conducive cricket environment. The stadium can host thousands of fans seeking to enjoy the amazing game. Himalayan cricket stadium has beautiful mountain surrounding. The stadium is built using the Tibetan construction style and offers a free viewing area.
Kareri Dal Lake
Kareri Dal Lake offers peace and tranquility, the area is calm, amazing, and exclusive. Green vegetation and mountains around the lakes give a nice view. The Kareri Dal Lake is the best camping site for many tourists visiting other locations.
Bhagsunag temple
Lord Shiva devotees can pay homage to the deity at Bhagsunag temple. Hindu pilgrims from across the country visiting Dharamshala can visit for prayers and blessings. Bhagsunag temple is quite ancient and preserves religious artifacts, a primary tourist attraction.
Triund Hill
Triund Hill is an exquisite place for trekkers and all tourists. The vegetation and rocky and hilly features make the area a potential location for trekking. Visitors can observe the snow-capped mountains from the Triund hills. It's a great place for family picnics and camping.
War memorial Dharamshala
The war memorial is a famous location in Dharamshala. It's an honorable place that offers locals and visitors a deep history of the soldiers of Kangra. The heroes fought in the wars of 1947-48, 1965, and 1971; they took part in UN peacekeeping operations.
The black walls are encrypted with the names of martyred soldiers. Tourists can view the guns, war tanks, airplanes, and war facilities used during the war era. The memorial center has a peaceful, green, and serene environment accommodative to all guests.
Bhagsu falls/Bhagsunag waterfalls
The Bhagsu falls are popular and attract different visitors annually. The fall is near the Bhagsunag temple, making it a beautiful place to visit. Guests can view the clean white water flowing over the rocks and listen to the smooth water flow.
Tea vegetation/gardens
The vast tea estates are beautiful to watch; they are well-organized rows and trimmed tea plantations. The area has exotic birds flying over the large estate. Tourists can trek around the plantation and mountain places for fun.
Kangra Art Museum
Museums help preserve different artwork from ancient days. The Tibetan and Buddhist artwork and cultural facilities are presented in Kangra Museum for educational purposes. Here visitors can see paintings, woodwork, utensils, weapons, and temple artifacts.
Things to do in Dharamshala
Top 6 Things To Do In Dharamshala 2023
1. Paragliding in Bir Billing
After visiting the beautiful places, there are thousands of activities to conduct, such as Paragliding. Tourists can visit Bir Billing near Dharamshala to enjoy the activity. Visitors from India and beyond come for paragliding activities every season.
2. Trekking
Individuals who like trekking can avail different hilly areas in Dharamshala. One can opt for Mcleodganj or other routes like Chamba, Triund, and Indrahar passes.
3. Camping
The fun of sleeping away from home and watching the star or clear sky comes with camping. Dharamshala has multiple locations best for camping activities.
4. Best meals
The local restaurant offers the best of local/traditional foods. Visitors can try various food types and enjoy the cultural heritage of the Dharamshala people. However, there are diversified foods to accommodate everyone.
5. Café visits
Young people or anyone can enjoy the splendid café culture in Dharamshala. There are incredible drawings on cafes with an international treat. Groups or individuals can stop at different café for chat, drinks, or a nice meal.
6. Biking
Bike lovers can enjoy riding in hilly and adventurous places. The user can use a GPS to move around since the city has good infrastructure.
Dharamshala is a place for tourists and locals who wish to wind up and relax. It is the best tourist destination and offers nothing but the best.
For more info visit http://www.dharamsalanet.com